WHAT IS SPIRULINA?
Spirulina is 100% natural and a highly nutritious micro salt water plant. It was discovered in South American and Africa in natural alkaline lakes. This spiral shaped algae is a rich food source. For a long time (centuries) this algae has constituted a significant part of the diet of many communities. Since the 1970's, Spirulina has been well known and widely used as a dietary supplement in some countries.
Spirulina contains rich vegetable protein (60~ 63 %, 3~4 times higher than fish or beef ), multi Vitamins (Vitamin B 12 is 3~4 times higher than animal liver), which is particularly lacking in a vegetarian diet. It contains a wide range of minerals (including Iron, Potassium, Magnesium Sodium, Phosphorus, Calcium etc.), a high volume of Beta- carotene which protects cells (5 time more than carrots, 40 time more than spinach), high volumes of gamma-Linolein acid (which can reduce cholesterol and prevent heart disease). Further, Spirulina contains Phycocyanin which can only be found in Spirulina.
BENEFITS OF SPIRULINA
• Supports the immune system
• Increases the efficiency of cellular communication
• Helps in the repair of DNA
• Many people taking spirulina find they have more energy
• Lowers cholesterol - Japanese and Indian studies have found that taking several grams of spirulina every day lowers cholesterol. In these studies, serum low density lipoproteins (the 'bad' cholesterol) was reduced, and high density lipoproteins (the 'good' cholesterol) were increased.
• improvement in the functioning of heart arteries, which is important for sufferers of high blood pressure.
• Detoxification
Who should take Spirulina?
1. Children who don't like or get enough vegetables and or have an imbalanced food intake.
2. Teenagers during their rapid growing period need a sufficient injection of nutrients. Spirulina is ideal for this.
3. Pregnant mums who need extra nutrients.
4. Seniors who have difficulty in having reasonable average 3 meals per day.
5. Sport lovers or athletics who need extra nutrients to keep their energy levels up.
6. Modern busy people who don't have the time to eat good meals.
7. Patients or people who need high volumes of nutrients to assist recovery (please consult your doctor)
8. Vegetarians who require extra nutrient sources.
Who shouldn't take too much Spirulina?
1. People with hyperparathyroidism.
2. People who have serious allergies to seafood or seaweed.
3. Patients current experiencing high fever.
How much Spirulina should be taken?
We suggest 10~ 30 tablets a day for adults, 5~ 15 tablets for children 2 - 12 years old. If you have special requirements for extra nutrients, please consult your chemist or your health practitioner.
How should Spirulina be taken?
1. Take only with cold or warm water, (not juice, soft drinks, coffee or tea).
2. After taking Spirulina, avoid alcohol, soft drinks or coffee for 30 minutes as these drinks can destroy some of the Spirulina nutrients and enzymes.
3. Take at least an extra half litre of water a day.
4. It doesn't matter if you take it once a day or twice a day, so long as you take enough for a day.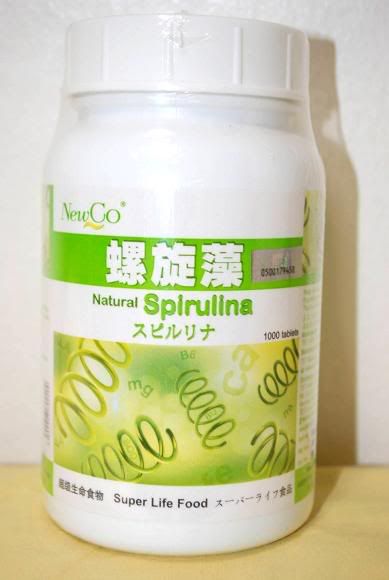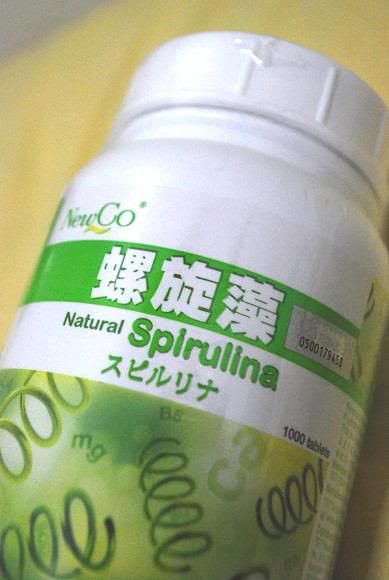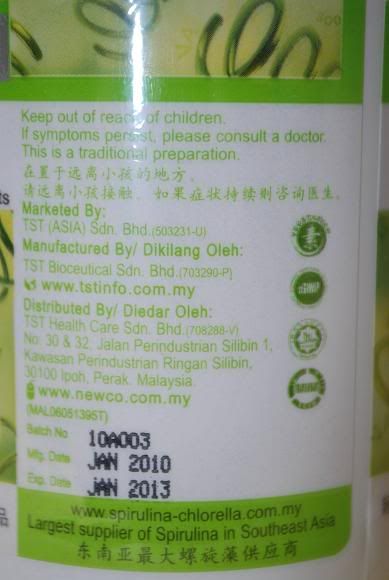 NewCo Spirulina

is a health food with medicinal values. It has the desired complementary effect treatment for a number of diseases. NewCo Spirulina is specially manufactured from 100% international top quality Spirulina powder. The superb quality product is enriched with minerals and vitamins.
100 % HALAL
100% VEGETARIAN
100% GMP (Good Manufacturing Practise)
100% CERTIFIED BY MINISTRY OF HEALTH MALAYSIA(MAL06051396T)
********************************************
NewCo Natural Spirulina (1000 Tablets),
W.M :

RM 118
EM :RM 128
********************************************
HOW TO ORDER?
*Minimum 2 bottles per order*
*Special rate for 10 bottles and above*
For COD:
FREE delivery for places below:
a. Damansara/Bandar Utama
b. Subang Jaya
c. Sunway
d. Petaling Jaya
*Free delivery for all other areas within Klang Valley subject to availability.
For other locations:
All Domestic or International Courier Charges will be fully borne by buyer.
1. Kindly key in all relevant information and email us to ensure a speedy response.
Please copy and use the format below:
Name:
Contact No:
Mailing Address:
Item/s:
Quantity:
2. Filling out of the order does not mean an order has
been accepted; we can only process your order upon
receipt of payment.
3. All orders will be confirmed by email. If you do not
hear from us after one working day please contact us
again.
6. All orders must be paid via internet fund
transfer (Maybank2u),Cash Deposit or Cash On Delivery (COD).
9. Cancellation can only be done within 24 hours after payment has been made and we will refund your payment in full amount. After 24 hours upon payment received, no order cancellation will be entertained.
All information in this website is subject to change without prior notice.
********************************************
DISTRIBUTORS WANTED, kindly email us at
bucketload@gmail.com